The National Aviation Heritage Invitational (NAHI) LLC sponsorships are promoted through the California Capital Airshow (CCA) and their support team at ADC Group, Inc., which is a well-known and respected aviation-related marketing organization.
The California Capital Airshow will be roaring across the skies September 9-10, 2017 entertaining and inspiring over 100,000 spectators. This event will host military and civilian jet demonstrations, world-class aerobatics, barnstorming and miles of exhibits and displays including NAHI participant's historic and vintage aircraft.
The California Capital Airshow is a 501(c)3 non-profit organization, so all sponsorship funds received via CCA have the potential to be a tax-deductible charitable donation. There are numerous sponsorship packages available to support the meaningful efforts of NAHI. All funds collected are utilized to cover the costs associated with hosting the annual competition and for the ongoing expenses associated perpetuating this historic event.
Sponsorship Benefits Could Include:
Trophy sponsorships including:

Presenting Sponsor – The Neil A. Armstrong Aviation Heritage Trophy
Antique – The Orville and Wilbur Wright Trophy
Classic – The Paul E. Garber Trophy
Military – The Henry "Hap" Arnold Trophy
Large Aircraft – The Herb Kelleher Trophy
Contemporary – The Stephen F. Udvar-Hazy Trophy
People's Choice – The National Aviation Hall of Fame Trophy

Special "Flight Line" NAHI Hospitality Chalet including prime-viewing of show, catering and beverage service for your guests and on-site preferred parking
On-Site recognition through public announcements, signage and promotional display opportunities
Branding for your company before, during and after the event, including evening socials
Opportunity for all types of VIP access including flights, tours, photos and/or to meet National Aviation Hall of Fame Enshrinees, aircraft owners and other aviation legends and heroes
Contact us today and let's discuss how we can help promote your business or organization!  Click here to E-Mail Phil Pacific at ADC Group or call 972-540-1742. We look forward to working with you.
• NAHI PRESENTING SPONSOR
Maximum Availability: 1
RECOGNITION
Plaque on the front of the permanent trophy in the Smithsonian national Air and Space Museum (for year of sponsorship)
Sponsorship of the Grand Champion Neil A. Armstrong Aviation Heritage Trophy
Recognition on the sponsor page of Airshow website
Recognition on Welcome Banners
Recognition in NAHI social media and email campaigns
Recognition in CCA's Collector's Book
Recognition on Volunteer Shirts
Use of Airshow Logo
Recognition in all NAHI press releases
ACTIVATION
Exhibit Space: Custom
Public Announcements/Mentions (per day): 4 Announcements
Banners displayed in NAHI area (provided by sponsor): 4 banners
Two representatives to help present the Grand Champion Trophy
HOSPITALITY
NAHI/Performer Chalet Passes: 20 per day
Passes for access to the California Capital Airshow
Parking Passes: 10 passes per day
Host one dinner by an Enshrinee of the National Aviation Hall of Fame (dinner costs provided by sponsor)
APPRECIATION
Airshow Sponsor Caps: 2
Airshow Posters: 20
Collectible National Aviation Hall of Fame Print: 9
Collector's Books: 1
• NAHI Trophy Sponsor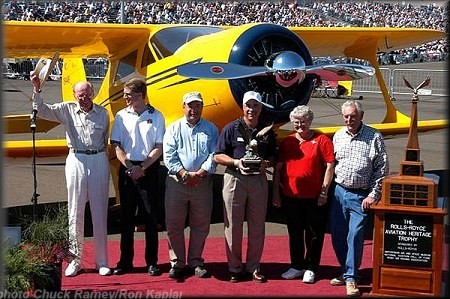 Maximum Availability: 5
RECOGNITION
Sponsorship of one of five NAHI trophies: Choice of Trophy - ANTIQUE, CLASSIC, MILITARY, LARGE AIRCRAFT, AND CONTEMPORARY
Recognition on the sponsor page of Airshow website
Recognition on Welcome Banners
Recognition in NAHI social media and email campaigns
Recognition in CCA's Collector's Book
Recognition on Volunteer Shirts
Use of Airshow Logo
Recognition in all NAHI press releases
ACTIVATION
Exhibit Space: Custom
Public Announcements/Mentions (per day): 3 Announcements
Banners displayed in NAHI area (provided by sponsor): 3 banners
Two representatives to help present the Trophy
HOSPITALITY
NAHI/Performer Chalet Passes: 10 per day
Passes for access to the California Capital Airshow
Parking Passes: 5 passes per day
APPRECIATION
Airshow Sponsor Caps: 1
Airshow Posters: 10
Collectible National Aviation Hall of Fame Print: 3
Collector's Books: 1
• NAHI/Performer Chalet Sponsor
Maximum Availability: 1
RECOGNITION
Recognition on the sponsor page of Airshow website
Recognition on Welcome Banners
Recognition in NAHI social media and email campaigns
Recognition in CCA's Collector's Book
Recognition on Volunteer Shirts
Use of Airshow Logo
Naming rights of private chalet
ACTIVATION
Exhibit Space: Up to 20'x20'
Public Announcements/Mentions (per day): 3 Mentions
Banners displayed in NAHI area (provided by sponsor): 3 banners
HOSPITALITY
NAHI/Performer Chalet Passes: 20 per day
Passes for access to the California Capital Airshow
Parking Passes: 10 passes per day
APPRECIATION
Airshow Sponsor Caps: 2
Airshow Posters: 10
Collectible National Aviation Hall of Fame Print: 1
• NAHI Sponsor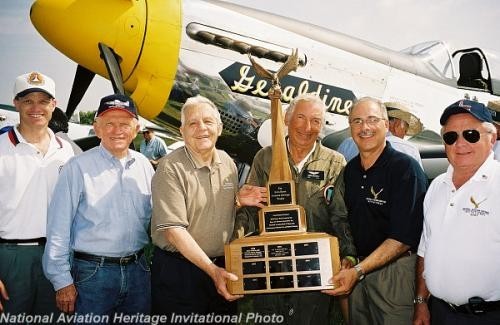 Maximum Availability: 5
RECOGNITION
Recognition on the sponsor page of Airshow website
Recognition on Welcome Banners
Recognition in NAHI social media and email campaigns
Recognition in CCA's Collector's Book
Recognition on Volunteer Shirts
ACTIVATION
Exhibit Space: 10'x10'
Public Announcements/Mentions (per day): 3 Mentions
Banners displayed in NAHI area (provided by sponsor) 2 banners
HOSPITALITY
NAHI/Performer Chalet Passes: 6 per day
Passes for access to the California Capital Airshow
Parking Passes: 3 passes per day
APPRECIATION
Airshow Sponsor Caps: 1
Airshow Posters: 10
Collectible National Aviation Hall of Fame Print: 1